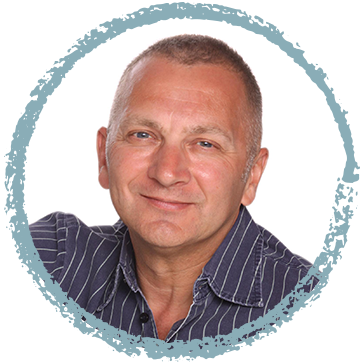 ThinkWell-LiveWell was created by Mick Cassell, an experienced coach/therapist and former advertising psychologist.
The ThinkWell-LiveWell 'Mindfulness and More' toolkit draws on Mick's own multi-discipline counseling approach, combining a range of potent techniques in a practical, accessible and personalised way, giving users guided support that replicates face-to-face counselling as closely as possible.
A high flier in international advertising, he describes his former life as a crazy 24/7 existence – a challenging and stressful way of being, where he continually pushed himself and tested the boundaries in whatever he did in order to remain ahead in 'the game'.
While Mick's career took him around the world on fascinating and enjoyable projects, the thrills and spills came at a cost.  The intense and highly-pressured lifestyle often took its toll on both personal and professional relationships. In his mid-40s he found himself feeling lacking a sense of fulfillment and of belonging in his life.
The Transformation:
As Mick himself puts it: "Working for the 'Dark Side' really was a lot of fun. But, in truth, it was the exact opposite of either doing good in the world or doing good for myself".
Mick's life was transformed in 2007, when what was intended as a unique way to spend a vacation turned into the start of a new way of life. A one-month hypnotherapy training course in San Francisco produced profound personal change, and his journey into the world of helping others began.
He reports that these changes really hit home when other people, from family and friends to colleagues, started to notice and report them. The biggest moment came when a new colleague told Mick that he was "the most laid-back person" she had ever met – previously an impossible thing to say about this self-confessed standard-bearer for middle-child syndrome. "To that point", he says, "I had spent my entire life striving to achieve validation – and suddenly I felt I had it, in a totally unexpected way and from a totally unexpected source."
Fulfillment in Helping Others
Helping others rapidly became more important and fulfilling for Mick than solving issues for advertising clients. Further study and practice followed and Mick soon found himself as a successful wellbeing coach, applying a combination of disciplines such as mindfulness, cognitive behavioural therapy, NLP, dreamwork and hypnotherapy according to each individual's personal needs and preferences and in demand from people around the world through his international network of contacts.
Aware the need was worldwide and the same for all ages and walks of life, it dawned on Mick that there was a way to help more and more people to help themselves by mirroring the essence of his multi-disciplinary approach in an online platform. Looking at the mindfulness apps that had just burst on the scene from his advertising psychologist's perspective, none of these seemed to Mick to go as far as they could to answer peoples' real needs.
"Mindfulness is a great discipline to bring into your life, but most people are looking for something that helps them achieve specific goals, relatively quickly. ThinkWell-LiveWell's down-to-earth, inclusive format is intended to bring meaningful change to the lives of as many people as possible", says Mick. "Our approach echoes the step-change that Cognitive Behaviour Therapy brought into psychotherapy – you could call it 'mindfulness for the real world'. We have created an online platform to help people realise a simple proposition; when you think well, you live well."
"And what I'm happiest about – ThinkWell-LiveWell is a toolkit that people can take as little or as much from as they wish. They can come to solve a specific challenge and, hopefully, they'll stay for the journey."
More in FAQs